The 2019 Disposable Hygiene market at a glance: GDM's perspective
Contents of the article
In this article, we would like to provide you an overview of the GDM developments for the year that just ended.
From a socio-economic point of view, 2019 has been a year full of events that saw the onset of new trends for both consumers and manufacturers.
Let's take a look at the 6 main drivers that have characterized the last 12 months:
Quality
Convenience
Automation
Sustainability
Overall Equipment Effectiveness
Premiumization
Quality: a key factor for Baby Diapers and Pants
In 2019, consumers worldwide have been increasingly focusing on quality, in connection with health and hygiene of their children.
This is why manufacturers have started to strongly investing in improving Baby Diapers and Pants' performances and comfort, with the aim to meet consumers' needs while remaining competitive.
Therefore, it has become essential not only to offer products with higher absorbency but that are also more comfortable and lighter.
Extra Thin Core has been developed with this in mind: its outstanding wetness distribution, which is achieved by an optimal mix of fluff and SAP, makes the product skin-friendly, soft and comfortable.
Lab tests have shown that with Extra Thin Core, diapers are 40% drier when used during the day and 30% drier when used at night. 
This new GDM solution, in addition to providing the performance required by the market, offers economic advantages, including:
Savings of up to 800 k € in raw materials in the first year

[1]

A reduction of up to 25% of the space required for the stockroom and on the shelf

[2]
Convenience: what do Millennial parents look for when choosing diapers?
In our April article "Baby Pants: the convenience that attracts Millennials in Asia Pacific" we have analyzed the habits of young parents in the region.
Millennials regularly search for detailed product information and reviews on the Internet and then purchase the products both online and in supermarkets. In Asia Pacific, E-commerce retailing is experiencing a constant growth: baby products sales have risen by 20% between 2016 and 2018 and are expected to increase up to 17% by the end of 2021.
Young parents in China, Indonesia, Thailand, Vietnam and Malaysia choose premium, innovative and convenient products, driven by socio-economics factors as
 well as a stronger hygiene awareness and education: the increasing diffusion of Baby Pants, compared to Open ones, is the direct effect of this trend.
 
BABY PANTS WILL OUTPERFORM OPEN DIAPERS IN APAC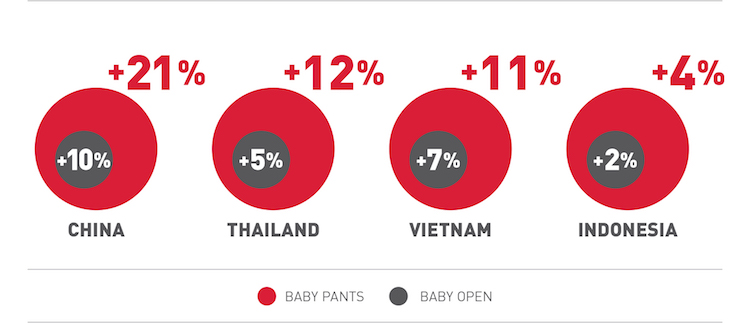 RETAIL VOLUMES – COMPOUND ANNUAL GROWTH RATE (CAGR) 18-F20
GDM uses state-of-the-art technologies to create Baby Pants with permanent channels, fluff/SAP ratio optimization and 3 core alternatives: fluff-based, pre-engineered and hybrid. The result is a top-quality Baby Pant able to guarantee the highest performances, in terms of core integrity, retention capacity, comfort fit and minimum rewet.
Automation: the role of Packaging in the Disposable Hygiene market
A greater tendency towards process automation to help reduce costs and make the production process more efficient was seen in China, SEAO, North Africa and Latin America. The intensification of automation is due to: persistent and significant growth of average earnings and a higher level of education.
To make disposable hygiene market packaging processes more efficient, we have developed the new SB50 GO machine with 100% made in Italy design, available as turnkey or stand-alone solution, that combines ease-of-use and reliability with an advantageous investment level, making it the perfect machine for the big jump in the fully automatic era.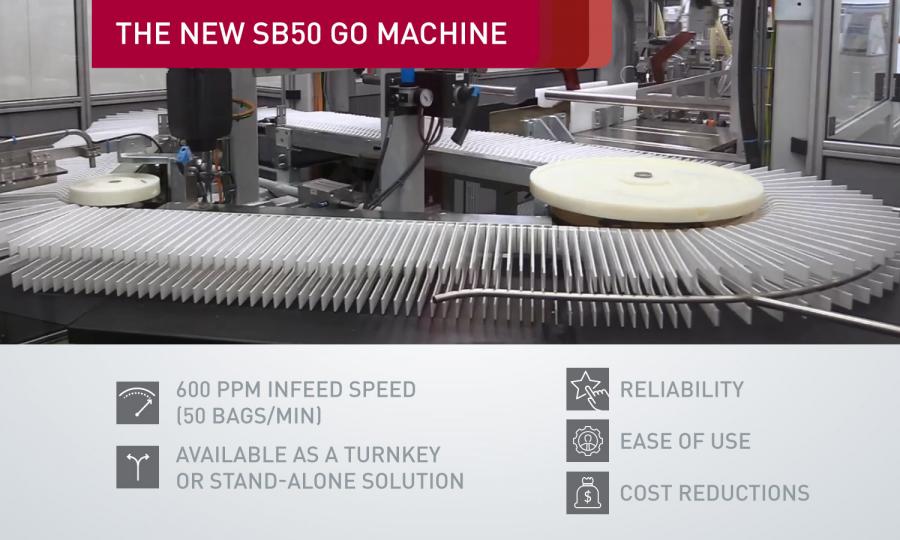 Sustainability: consumer awareness and target intervention areas in Disposable Hygiene machinery
Never before has there been so much talk about the environment and climate change. Greater awareness has led to an increase in demand for diapers that are more environmentally friendly, as stated in our article "Embracing sustainability thanks to GDM solutions".
 
Businesses have adapted to this marked and rapid change by integrating technologies that have a lower impact on the environment, reducing energy consumption and using natural materials.
Environmental protection has become so relevant that it is one of the key issues being addressed by governments and international organizations. Taking the United Nations Sustainable Development Goals (SDGs) as guidelines, we have identified five intervention areas to reduce the production impact on the environment while generating value through considerable savings: 
 
SDG 12 - "Responsible consumption and production"
Waste reduction
Raw materials
SDG 13 & 15 - "Climate action", "Life on land"
Energy saving
Space management – logistics
Recycle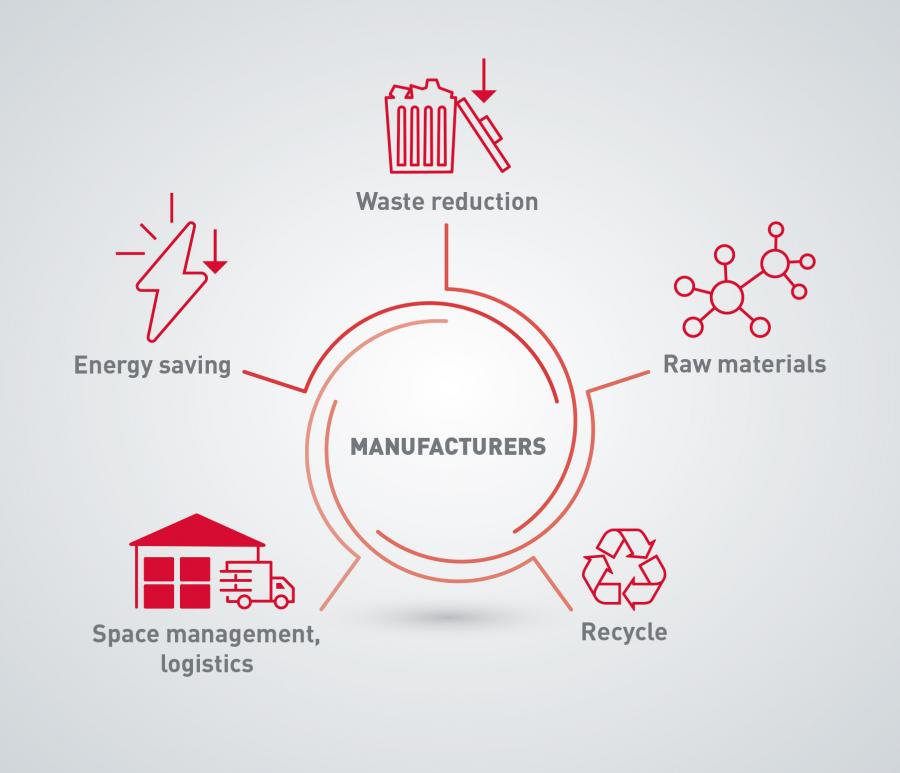 Read the full article to know more about GDM solutions for embracing sustainability!
Overall Equipment Effectiveness growth: Customer Service is key
Being customer-centric means being able to anticipate your needs and quickly implement the most effective actions to generate value. Customer Service represents the most valuable connection between production needs and their satisfaction when your machine is in production.
In our article Matching investment protection and OEE growth: GDM Customer Excellence Service, we brought you the success story of one of our customers focused on the consolidation of its position in the market and consequent evolution of business objectives. This led the company to set advanced manufacturing requirements, whose focus was centred then on the improvement of the Overall Equipment Effectiveness (OEE).
Tailoring on our customer's needs, we have created Customer Excellence Service – a portfolio of modular services designed to reach business goals targeted on three specific key factors: Speed, Waste and Machine Availability.
Find out how we succeeded in achieving an outstanding 30% OEE growth!
Premiumization: where the Latin America market is off to
2019 has been the year of market trends consolidation: we deep-dived to what happened in some Latin American countries - Brazil, Chile and Colombia.
In the article, "Is Premiumization the next big thing in Latin American Baby diapers market?", we highlighted that consumers in the region with a higher disposable income have started to show a preference for diapers offering improved softness, absorbency and eco-friendliness – in one word, premium.
What is this specifically about?
Thinner absorbent core
Permanent channels
Front & rear wings zero waste
Take a look at our solution to meet these new demands.
Stay tuned for a 2020 full of Innovation and Value Generating opportunities: keep on Achieving Together and waiting forward to meet you at Index 2020!
REQUEST AN APPOINTMENT