Matching your packaging needs for the Disposable Hygiene market – Efficiency, packed!
Contents of the article
Which is the role of Packaging into the Disposable Hygiene market dynamics? We have talked about it with the GDM Global Sales Packaging Manager.
Which trends are up ahead in packaging for the Disposable Hygiene market?
Over recent years, automation has been the keystone.
The increasing number of installations of fully automatic solutions, versus semi-automatic ones in which the role of the operator is central in the primary and secondary packaging stages, is mainly related to two causes: first, the persistent and significant growth of average wages in developing areas. Just to give you an example, already in 2017, in the industrial areas of Shanghai and Beijing, wages were +30% and +11% higher compared to certain Eurozone countries, as Croatia and Lithuania.[1]
At the same time, the education level is increasing: let's think about Brazil, where the scholarship rate among 15-25 years old population has improved from 88% in 2005 to 93% only ten years later[2]. Today, it is easier to find technicians with a good degree of specialization and a basic English knowledge, capable to manage an automatic production process.
In this scenario, the creation of an automatic production cycle, oriented to efficiency and cost saving, is now the preferred solution and the short-term objective of the regional champions located in China, SEAO, Latin America and North Africa markets.
As GDM, how could you meet market expectations, considering this shift toward automation?
Our new SB50 GO machine with 100% made in Italy design, available as turnkey or stand-alone solution, combines ease-of-use and reliability with an advantageous investment level, making it the perfect machine for the big jump in the fully automatic era: this is what we define "Efficiency, packed"!
On October 28th – November 1st, 2019, you are invited at Coesia China headquarter in Suzhou, to find out how the SB50 GO line is your "made-for-me" solution.
As just said, automation is becoming the must for regional champions. What about multinational players, what's in for them?
Our multinational customers tell us that their goal is to limit inventories through a just-in-time production of the different SKUs.
In Europe and North America, this trend has established its roots into the digital revolution at the turn of 80s and 90s, when the World Wide Web and automated robots have taken hold in the industrial scene, with the objective to contain operative costs.
As a result, flexibility, agile production and time control have become the game changers, especially if we consider the growing importance of Private Label in Disposable Hygiene[3], with their need to quickly react to market dynamics.
How are you guaranteeing the flexibility they need?
Considering the global framework, flexibility is the answer for minimizing time loss related to changeovers and therefore manufacturers' money.
Every market segment has to be satisfied, from large retailers to e-commerce.
This is what we ensure to our customers: thanks to our advanced technology, the Red Series lines, also available as turnkey solution, are self-adjusting by simply recalling the recipes by touch-screen, while manual settings have been minimized for the maximum flexibility.

How is GDM supporting customers to achieve their business goals?
In our industry, producers want to raise awareness of their products and stand out from competitors. Set the best conditions for their success is our job!
Especially in the Baby segment, manufacturers might be interested in small counts, for promotional activities or as a way to stay competitive.
Our 'under-square' option rotates products by 90° during the packaging process, creating bags with 6 diapers in each.
From the other side, bigger counts are particularly suitable for savings offers, usually sold through e-commerce platforms: thanks to our double product row option, managing double layer and quadri packs, you can reach up to 240 products per single bag.
Moreover, we keep convenience always in mind, as a critical aspect of a "product experience": by rotating the row of products by 180°, bags are manufactured with easy extraction feature.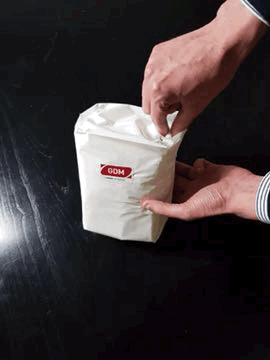 As in our attitude, all our technological developments are expressly designed to answer to a specific market need.

How do you make customers aware that they are at the centre of your development efforts?
Our motto is "always by your side", which means to create a partnership with our customers, supporting them in every stage of a machine life, to achieve their business objectives.
From the very beginning, while defining a new machine configuration, we are by their side with Virtual commissioning, which shortens lead-time from conceptual project to prototype validation, designing more efficiently and debugging the machine control software on a virtual model. The result is the minimization of fixing settings and modifications during the commissioning phase.
Further, with our Customer Service, we are everyday by our customers' side, to keep equipments in top conditions, while maximizing production run time for the highest level of effectiveness and the lowest possible impact on maintenance costs.
Our Auditing service, for instance, starts with the machine inspection, tracing its state of wear and providing tips and proposals to keep the line updated with latest technologies. The final goal is to optimize spare parts and materials inventory, for the definition of an effective preventive maintenance action plan, leveling workloads.
Our 30-year-experience gained on the field coupled with our global presence, contribute to create a close relationship with our customers.
Besides, thanks to Coesia Group, we have production facilities and Customer Service offices in different areas of the world; we can therefore assist and follow each customer step-by-step, from start-up phase right up to production.
All of this is done coordinating with personnel that speak the same language and share the same time zone.
The global industrial sector is more and more oriented toward sustainability. How is GDM gearing up?
Sustainability has taken center stage in our daily activities, in particular the R&D ones, involving both materials and technology.
The focus of the packaging market is to find new alternatives to PE and PPE, therefore our solutions are set-up to handle bags made of bio-based materials, more sustainable and with a lower environmental impact.
On the other hand, by coupling our converting and packaging technologies into a turnkey solution, we could provide significant savings for our customers: thanks to the Extra Thin Core process, that optimize Fluff and SAP mix of the absorbent core, and our compression potential up to 5 tons, products are thinner and final dimensions of the bag are reduced.
From a logistic point of view, this translates into a reduction up to -25% of the space inside the container[4], and more bags displayed on the stores' shelves.
This is just a glimpse of how we could generate the highest value for you: contact us and let's find the most suitable packaging solution for you and your market needs, together.
CONTACT OUR EXPERTS