Is Premiumization the next big thing in Latin American Baby diapers market?
Contents of the article
The Latin American Baby Diapers market is undergoing a revolution in terms of demand, from value for money to premium products.
Factors pushing consumer's preference towards softer, more comfortable and super absorbent diapers are both socio-economic and market-related.
The situation is not the same everywhere in the region: Brazil, Chile and Colombia are the trendsetters, where national economies are growing and birth rates are dropping, leading caregivers in the mid to the high-income range to look for more innovative and premium products.
Moreover, a strong North American influence and the market entry of global players who sensed considerable investment opportunities, are strongly contributing to this shift: such elements have brought new consumers' needs to the surface, putting an increasing attention to product features and materials they choose for their children's hygiene.
Where the evolution begins
Let's have a closer look to the three outstanding countries: Brazil, Chile and Colombia!
Brazil: Baby Open diapers consumption rising as economy recovers
2015 has been the "annus horribilis" for Brazilians due to the political-economic crisis; recovery has been sluggish and, in 2017-2018, the economy grew at a pace of around 1%.
Although these fluctuating trends and contracting birth rate up to -13% over the last ten years, Brazilian Baby Open Diapers market rises, with 10,7 bn units sold in 2018 and a forecasted growth of 3% CAGR 18-F20 [1].
Inflation is playing a key role: caregivers look for high quality and more sustainable products, not willing to lower the bar despite their decreasing purchasing power. In this scenario, brand loyalty is overridden because consumers are open to try new products that offer a more favourable trade-off between performance and price.
Colombia: government interventions to relieve disposable expenditure
Economic growth in Colombia is mainly driven by government incentives, introduced in 2018, aiming to reduce tax burden on companies. Colombian consumer trust has strengthened, revitalizing private consumption thus increasing disposable income for families.
Today, buyers are ready to spend more, demanding a premium quality Baby Diaper for their children, especially in terms of softness and comfort fit: thanks to consumption increase, local market is expected to outpace 1.9 bn units sold in 2021 [2].
Chile: delayed motherhood influencing Baby Diapers market
From a sociological standpoint, in Chile maternity is being postponed with a consequent decline in birth rate – more than 50% since 1950. Women are more emancipated today and have more options than previous generations: improved education levels and an increased use of contraceptives are two main factors contributing to this shift.
Moreover, the Chilean Baby Diapers market is strongly influenced by North American players, importing premium quality Open Diapers in the country and pushing consumptions by promoting limited editions or sustainable claims, making consumers less sensitive to price.
Tailoring new products for new customer needs
Regional champions and global players are both involved in this big-time change toward premiumization, but what does this shift to premium is about from product perspective?
THINNER ABSORBENT CORE
The tendency toward thinner diapers compared to previous old-style thick ones involves both improved wearability and enhanced absorbency through an optimized distribution of Fluff and SAP.
PERMANENT CHANNELS
Permanent channels guarantee uniform liquid distribution for baby's comfort, keeping the diaper dry for longer and, combined with a low-cellulose technology, offer an ideal fit and leakages prevention at the same time.
FRONT & REAR WINGS ZERO WASTE
Compared to traditional T-Shape and Hourglass product designs, Baby Diapers with Front & Rear Wings Zero Waste maximize raw materials usage for improved environmental performance as well as cost optimization.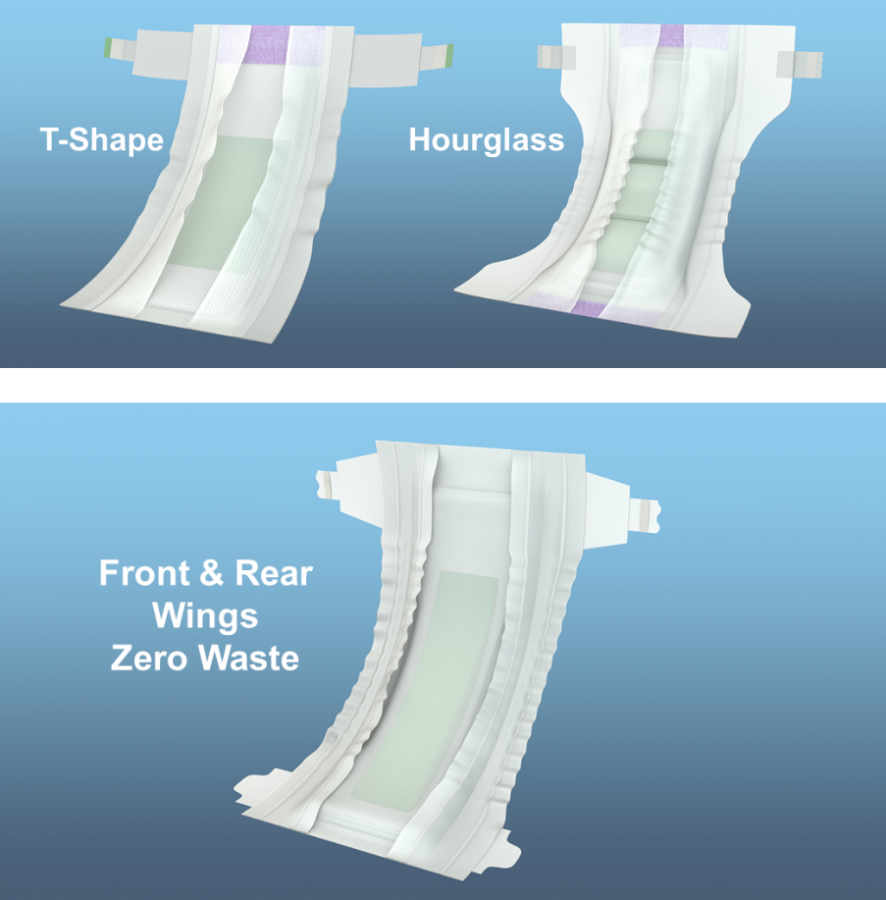 GDM to meet new demands of the Latin American market
Latin American manufacturers can rely on GDM as a partner that stands by them to drive the future of the Disposable Hygiene market, perfectly matching what parents are looking for, today.
B6-W Red: the perfect solution for premium Baby Open diapers
B6-W Red is our Baby Open diapers line with Front & Rear Wings Zero Waste design, running at 600 ppm, which prioritizes overall equipment effectiveness thus minimizing the unitary product cost.
Thanks to the adoption of proven and reliable process solutions, B6-W Red delivers premium quality Baby Open diapers with Extra Thin Core featuring Permanent Channels for improved core integrity, no sagginess and no bulkiness.
Moreover, considering the manufacturing perspective, you would take advantage of the outstanding process stability with fixed standard deviation at 0,5 – challenge us, we will show you how it is possible!
The Zero Waste design avoids trims for a yearly saving up to 30% on wings nonwoven material: a great step forward towards sustainability and product cost minimization!

ZERO WASTE VS. TRIM REAR WINGS DESIGN BASED ON LARGE SIZE
B6-W Red is the answer to your needs in terms of high performing products, manufactured at the lowest Total Cost of Ownership in its category, supporting you and your growth ambitions in the evolving Baby Diapers market.
Combine it with our SB50 stacker and bagger to have all the benefits of a single supplier from converting to primary packaging.
Don't wait any longer and catch now your opportunities in the Latin American Baby Diapers market: check out our B6-W Red and get in contact with us to know more!
CONTACT OUR EXPERTS