Matching investment protection and OEE growth: GDM Customer Excellence Service
Contents of the article
Being customer-centric means being able to anticipate your needs and quickly implement the most effective actions to generate value. Customer Service represents the most valuable connection between production needs and their satisfaction when your machine is in production.
That is the case of our Customer Excellence Service success story: let's find out more, together!
GDM perfectly matching customers' needs
In the past years, GDM has become partner of a Leading North American multinational company, newcomer in Hygiene Product manufacturing, whose objective was to quickly start-up brand new lines and maintain stable performances 24/7.
This phase is always critical and our customer, starting from the initial commercial discussion, highlighted some potential risks amenable to intangible factors, as operators' capabilities, skills and automation expertise.
Targeting their needs, we have designed a tailored set of solutions, the Asset Protection Services program (APS), enabling to have:
Technical training and production support for operators approaching to Disposable Hygiene machinery, shortening their learning period
Preventive maintenance minimizing production downtime and, in the long run, preserve the equipment's performance and value over time
Spare parts management to streamline their timely availability 
Remote assistance connection, leveraging internet potential and the extensiveness of mobile devices, for a quick diagnosis and issue resolution
Cost effective contract management through fixed monthly rate

Thanks to our APS program, we gained our customer's trust, securing machines availability and supporting their reliability.
GDM's Customer Excellence for the company's new requirements
The consolidation of our customer's position in the market and consequent evolution of its business objectives, led the company to set advanced manufacturing requirements, whose focus was centred then on the improvement of the Overall Equipment Effectiveness (OEE).
Therefore, APS needed to be upgraded to the next level, evolving hand in hand with our customer: this is how Customer Excellence Service was born.
The goal was challenging but – over 3 years - we succeeded achieving an outstanding 30% OEE growth, working on three specific key factors: Speed, Waste and Machine Availability.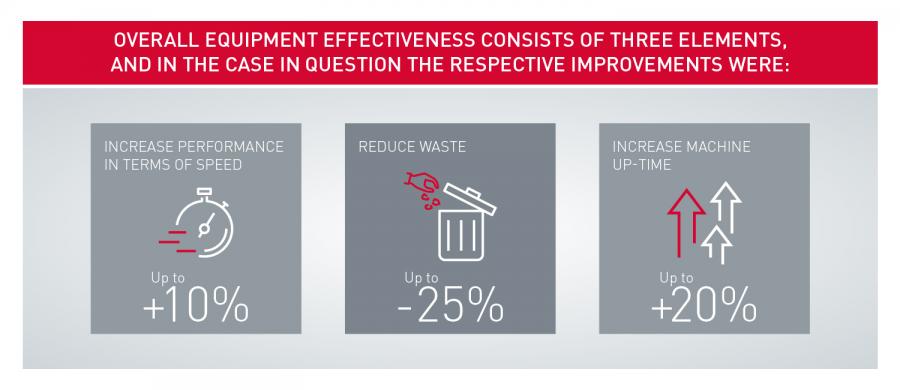 Customer Excellence: a highly customizable modular service 
Customer Excellence Service is the evolution of APS and involves a portfolio of modular services designed to reach your business goals. As part of it, you would take advantage from:
Allows the examination of the operational conditions of the machine in terms of maintenance status and operability to determine the main causes of inefficiency through data mining and application of Lean Six Sigma methodology: from which an action plan for corrective and improvement actions implementation is developed
The machine is regularly inspected by a GDM experienced technician, to promptly detect any issue and set an action plan to eliminate the cause
Spare Parts Extended Warranty with Stock Inventory and Consumption Check 
Thanks to the preventive definition of the dedicated stock of spare parts and regular consumption analysis of critical components, it is possible to plan ordinary maintenance shutdowns and targeted interventions, to optimize activities and increase machine uptime
Remote Assistance Service
Thanks to our Remote Assistance, we ensure a fast diagnosis without waiting time and a better understanding of the issue, minimizing line stops: more reactivity means a higher machine efficiency level
Specific Training Courses
GDM courses are detailed, specific and customized, based on operators' skills, machine processes and client needs. GDM Training Service offers theory and practice sessions worldwide, at your company site or at our facility
Operational and Maintenance Documentation
The most up-to-date documentation with complete and easy to follow procedures, video tutorials and instructions via QR code >> e-documentation

Ready to deep dive into the advantages of GDM's Customer Excellence?
Contact us to find out the most suitable Service configuration for you!
CONTACT OUR EXPERTS