Baby Pants: the convenience that attracts Millennials in Asia Pacific
Contents of the article
Millennial parents: new priorities for new consumers
The millennial wave of parents is unlike any previous one: they are more informed than their predecessors[1], they shop differently, and are much more likely than the past generations to use their smartphones to research products, use a same-day shipping option, or a subscription service as part of their online shopping, and have a different set of priorities and ways of evaluating products.
Millennial parents simply want more for themselves and for their children above all: more information, higher quality, greater sustainability, more personalization, easier accessibility and lots of alternatives.
The online world is giving Millennials a platform to reach the world. Young moms and dads use smartphones while shopping for different reasons: they consult product reviews, parenting websites, blogs, online forums and social networks, comparing prices, asking for information and interacting with other users.
The baby products e-commerce has experienced a 20% increase in 2016-2018 and is forecasted to keep strong in the years to come (+17% CAGR 2017-F2021).
In Asia Pacific, millennial parents show increasing interest in high-quality products, especially when shopping for their children. In China and Tiger Cub Economies – Indonesia, Thailand, Vietnam, Malaysia and Philippines – Millennials prefer those products able to strike a balance between innovation (premium products offering value and convenience) and affordability (a key factor they consider when comparing products).
China takes the lead
The introduction of the two-child policy at the beginning of 2016 highly contributed to the birth rate increase in the following years. At the same time, China's GDP has been growing and families are having more disposable income. Per capita usage of baby diapers and pants amongst children up to 36 months old has been much lower than in developed regions such as Western Europe and North America, indicating a huge potential for the segment.
As a consequence, manufacturers are looking to China as breeding ground for growth, also thanks to the large consumption volumes that the Baby Disposable Hygiene market generates in the country, around 33,4 bn pieces in 2018.[2]
Chinese parents now have stronger hygiene awareness: they are willing to change the diapers more frequently, driving the volume growth of the segment. They seek for premium products characterized by gentleness, safety, ease-of-use and convenience, choosing solutions that adapt to different uses and contexts, as for premature babies or for swimming, proving to be more likely to opt for quality over price. In this scenario, Baby Pants products, perfectly matching Chinese consumers' needs, are booming and are forecasted to achieve an astonishing +21% CAGR 18-F20 in retail volumes.[3]
Indonesian Millennials look for value-added premium products
Indonesia is the world's largest archipelago where metropolitan cities and rural villages coexist: different consumers' needs and priorities are shaping its dynamics.
Considering that this country has one of the highest fertility rates in the region – 2,4 births per woman in 2016 – hospital and clinics have a crucial role in the hygiene education of new parents.
The presence in the market of Japanese players for more than a decade, who have introduced superior quality pant-style products, strongly influences Indonesian parents' choice. Moreover, when looking for added value premium products, soft and gentle on their children's skin, consumers tend to give great relevance to the opinions of the members of the groups (family, friends, colleagues) they belong to.
Market data show how this is a consolidated trend in the country: here, Pants have the highest market share of the region, accounting for 61% on the total Baby Disposable Hygiene market, corresponding to 4,1 bn units consumed in 2018. [4]
Thailand focusing on premium quality products thanks to parents' higher purchasing power
Thailand's ongoing improvements in the national economy and higher household incomes allow millennial parents to have more money to spend on fewer children.
Since consumers have a higher purchasing power and the number of working mothers is increasing, parents are more interested in premium quality, preferring soft, and comfortable products for their children.
In Thailand, as well as in the region, due to the high humidity percentage and elevate temperatures, parents look for products that could guarantee the best baby comfort. The convenience of use pushes them to opt for Pants, which are forecasted to register a solid consumption volume growth at +12% CAGR 18-F20.[5]
Saving time and convenience driving parents' purchases in Vietnam
Thanks to real estate investments in facilities for kids and targeted day-care programs, the Vietnamese government has been working to provide a safe place for the children of rural migrants moving from the countryside to the cities looking for a job. This is generating a favourable context for the country's economic growth – with a 2018 GDP increase among the highest in the region, at +7% vs 2017 – and, as a direct consequence, the rise in female employment rate, reaching 72%.
Since young parents now have higher disposable income and busier lifestyles, they look for products able to alleviate the household chores. Convenienceis then becoming their main driver for purchases: Baby Pants are perfect to save time, enjoying the benefit of wearability and this is reflected in 2018 consumption volumes, reaching 1,1 bn products, with an estimated growth rate of +11% CAGR 18-F20.
BABY PANTS WILL OUTPERFORM OPEN DIAPERS IN APAC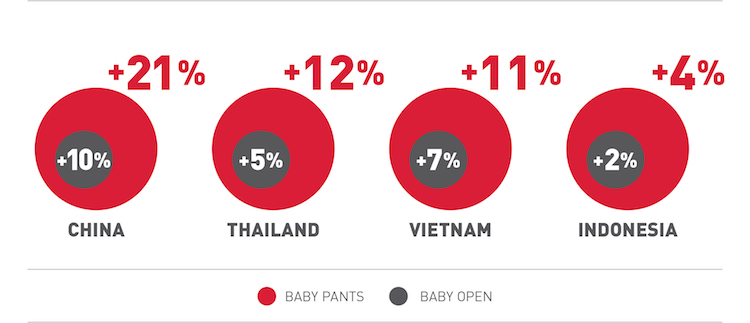 RETAIL VOLUMES – COMPOUND ANNUAL GROWTH RATE (CAGR) 18-F20
Baby Pants' convenience is unmatched
Given their fast-paced lifestyles, Asia Pacific's consumers focus more on childcare and convenience. In particular, increasing consumer awareness and education are driving parents towards Baby Pants, a solution that offers greater freedom of movement to jump around and play.
Today, Pants have become the most popular type in APAC, primarily due to 3 main reasons:
since they are easier to put on and off compared to open diapers, they are advantageous also away from home;
their wearability ensures the required comfort for babies, acting as much like real underwear as possible;
thanks to premium materials.
Convenience, ease-of-use and baby comfort: GDM's solutions designed to satisfy consumers' essential needs
Acknowledging millennial parents' needs in Asia Pacific, GDM has developed a Baby Pants platform, covering different production capacities, designed for product quality and flexibility in terms of sizes, costs optimization and ease-of-use.
This solution enables premium materials processing, delivering the highest quality with the best comfort fit.
Moreover, it has been designed focusing on raw material control and tensioning, optimizing both production – power consumption reduced up to 30% – and product costs. Indeed, the result is a baby pant design with intermittent nonwovens that allows saving on raw materials up to 40%. In addition, GDM's solution also reduces the product weight variation and minimizes the operator intervention during size changeover.
GDM uses state-of-the-art technologies to create Baby Pants with permanent channels, fluff/SAP ratio optimization and 3 core alternatives: fluff-based, pre-engineered and hybrid. The result is a top-quality Baby Pant able to guarantee the highest performances, in terms of:

GDM innovative solution allows you to maximize your competitive capability: the platform is designed to answer your needs, guaranteeing high-quality products while optimizing costs.
Would you like to discover more about our machines?
Contact our experts to find out our portfolio of solutions expressly designed to answer your specific regional needs.