Why flexible packaging machines are the only future-proof technology
As we enter the exponential age[1] , trends are always changing and so are customers' expectations. Whatever is hot today might be old news tomorrow morning. That's why being able to quickly adapt to a market shift is a key element moving forward. But how can you be prepared when innovation is maximum and uncertainty is king? The solution is format-flexible packaging systems.
Why todays' market trends make format-flexible packaging a must
According to experts, "In the production and packaging process, the results of the increasing range of variants are the reduction of the batch sizes, the rising number of format-changing processes and, finally, a growing demand for format-flexibility. Product changeover is perceived as a loss of time and money. There are manufacturing concepts, like lean or mass customisation principles, for efficient production. These principles require a high level of manufacturing and machine flexibility, as well as a rapid changeover capability as an enabling tool for that. To sum up, production will be more and more defined by flexible production systems with a minimal changeover time for individualised manufacturing."[2]
Flexibility is also about sustainability - an increasingly important topic nowadays. So much so that packaging brands are changing their strategy to appeal to consumers[3] - especially Gen Z[4]. And with these two generations being more and more green-conscious, sustainable packaging is a necessity for any forward-looking corporation.
More than a matter of this or that segment or age group, this is a public uproar, with consequences from a regulatory standpoint. Canada is implementing the Strategy on Zero Plastic Waste, with a 2030 goal. China banned imports on packaging waste in 2017. The EU is outlawing single-use plastics and the United States is following on Europe's footsteps.[5]
According to a McKinsey's survey involving approximately 10,000 people over ten countries[6], there are three main insights to consider when it comes to sustainable packaging:
Food safety and hygiene are more important for consumers as a result of the pandemic.

Sustainability remains a key topic for the packaging value chain, especially after the start of the pandemic. So much so that the overwhelming majority of respondents in all countries are willing to pay more for sustainable packaging.

Among consumers there is no consensus on what packaging type is most sustainable; however, they do agree on what are the least sustainable options. Paper-based cartons and glass, for instance, are widely considered eco-friendly in the United States and in Europe, while they rank much lower in Brazil, China, and Indonesia. Globally, compostable plastic films have a strong global recognition as sustainable options.
In light of these findings, fast-moving-consumer-goods (FMGC) and retail companies are going to be increasingly under pressure to meet pre-pandemic sustainability commitments. This translates into the need for new packaging formats designed to improve recyclability - often with the use of recycled content such as post-consumer resin (PCR). These necessities make a strong case for format-flexible machines, capable of adapting to the heterogeneous market expectations in terms of sustainability.
Even Disposable Hygiene is taking notice. GDM, for instance, has explored the use of non-oil-based green polymers, low density polyethylene (LDPE) and recycled plastic materials.
Thanks to this innovation, GDM's bags have powerful implications savings-wise in terms of reduction in PE used and in material cost. These options have the potential to transform the traditional linear economy of plastics into a zero-waste business model - this without any impact on quality.
The last initiative led by GDM, in order to reduce the use of plastic and meet the Gen. Z demand, is the option for mono material solutions, such as paper bags, enabling an even easier and faster recycling.
However, sustainability is not the end-all be-all of packaging. Companies, also in the Disposable Hygiene industry, must strike a balance between an efficient manufacturing and a shorter time to market. In this regard, the three main forces shaping the packaging market are consumer demand, distribution channels' change and manufacturers' needs.
As an actual fact, convenience is more and more important. In this context, convenience is defined as the consumers' preference for options as far as diverse packaging formats are concerned, so as to be able to pick what they consider best for their current needs. Depending on the necessities, customers might either go for Jumbo packs or smaller ones, and even favor single-product solutions.
However, since convenience is about breadth of choice, it also goes hand in hand with sustainability. In fact, many customers value the option for alternatives that, in terms of materials, best fit their sustainable requirements.
In terms of distribution channels, packaging has to adapt itself to the ever-changing distribution requirements. A primary factor is e-commerce growing in importance. Propelled by the pandemic, the shift from brick-and-mortar stores to online shops has forced businesses to adapt.
The main drivers, as far as consumer packaging and tissue are concerned, will be sustainability, convenience and demographic shifts. The sector is expected to grow on par with GDP. Another powerful factor will be rising concerns over plastic packaging waste, representing both an opportunity and a challenge for fiber-based consumer packaging. New solutions will need to emerge. Innovation in cooperating with retail companies as well as in transport and industrial packaging will be paramount, especially in the intersection between sustainability, e-commerce, and technology integration[7].
Of all of these, e-commerce, which by itself is going to account for half of the demand growth in transport packaging over the next several years, is already bringing out new packaging topics. Un-boxing, counterfeiting measures, improved product safety, last-mile delivery optimization and the merge of primary (consumer) and secondary (transport) packaging are going to be the burning issues of tomorrow[8].
Sustainability, however, is going to be the keystone on which everything is built upon. The public outcry about plastic packaging waste and greenhouse gas emissions from fossil-based packaging materials is at record high. Packaging-materials companies are facing a hard choice about how to position themselves. How should they address the topic of sustainability? Multilayered solutions or fiber-based packaging only? Where is the greatest value: technology integration or development of new materials? The uncertainty around this issue is exactly why flexibility is essential[9].
As far as manufacturers' needs are concerned, just-in-time inventory and spare parts management will become the new normal. In a way, this is a side effect of customization - a must-have for consumers of today. And it's not just about them: manufacturers as well dislike big stocks of products because the market is always moving and the capability to act quickly and optimize the costs is crucial.
The GDM 360° approach, or: how SB50 and SB70 are the embodiment of Flexible Packaging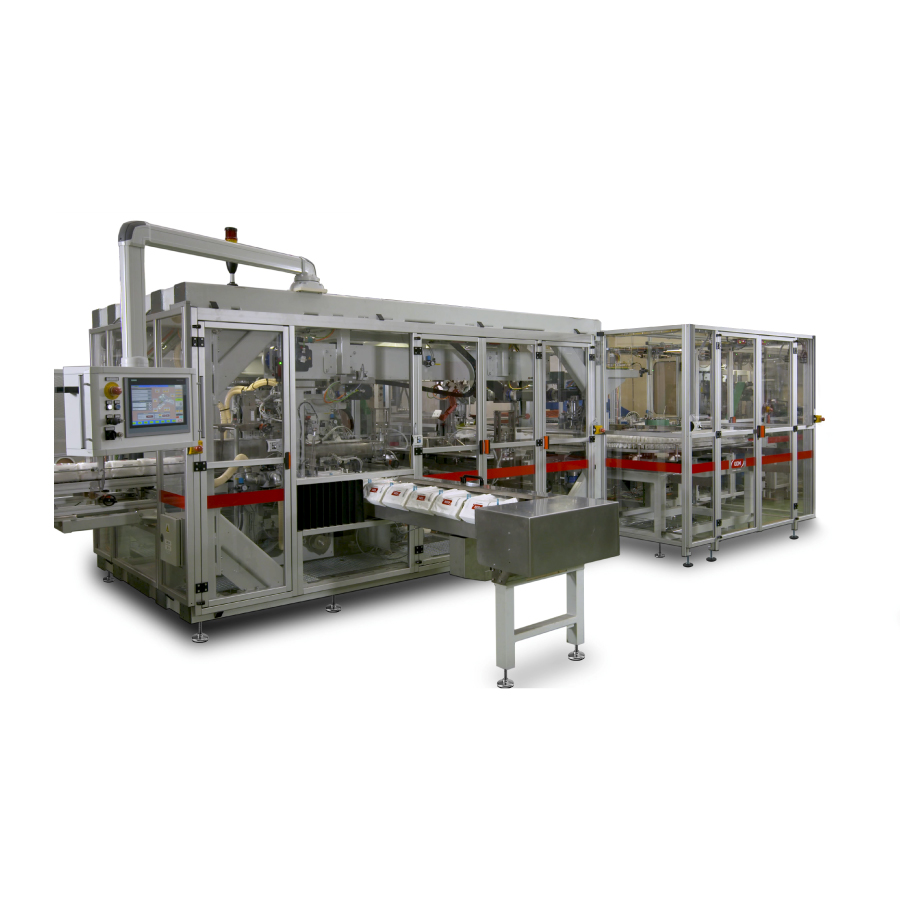 In line with its founding principle of Business Made Easy, GDM has developed two format-flexible packaging sol: the SB50 platform and SB70 Red series.
The former consists of SB50 Red (800 ppm) and SB50 Go (600 ppm). Both mount a full servo integrated system capable to count, stack, compress and pack disposable diapers into pre-made bags. With 50 cycles per minute for SB50 Go, or 80 cycles in dual lane configuration for SB50 Red, these machines support a wide range of counts and a size change in less than 25 minutes.
Moreover, SB50 Red is compatible with both a double-layer and a four-pack stacking configuration. Thanks to its 5-ton compression, it also ensures a significant decrease in bags' width and a double cost reduction, as both transport and bags cost money.
And if SB50 Red is fast, SB70 Red is even faster. With 70 cycles per minute, or 100 cycles in dual lane configuration, the machine goes up to a whopping 1000 ppm in both dual lane and input product speed. Furthermore, it comes with a full servo integrated system pretty much like the SB50 series, granting each and every feature of SB50 Red with the addition of small count and horizontal filling.
In short, however uncertain the future of packaging might be, one thing is clear: flexibility is going to play a major role. That's why GDM, with its solid know-how, its extended portfolio of format-flexible solutions and its capability to support the customer by whatever means necessary, is a valuable partner for any player in the packaging domain.
If you want to be prepared for anything, you can't miss out on our format-flexible packaging solutions. Contact us!