A showcase of GDM's digital portfolio with our Head of Customer Service Augusto Cappiello
In a world where machine learning and Industry 4.0 make faster and faster progress, digital services are the pillars of the new economy. This is especially true in our business, where a paradigm shift is taking place: from hardware manufacturing to IoT as a service. In this context, customer service is increasingly taking the center stage of a new, tighter and more productive relationship between solution providers and their customers.
A protagonist of this transformation is Coesia, a group of companies specialized in innovative industrial and packaging solutions, headquartered in Bologna, Italy – of which GDM is part. Digital services are a strategic pillar for Coesia: indeed, the group strongly believes in the complete digitalization of the production process, envisioning great benefits for its clients in terms of performance and operating costs. Digitalization greatly improves user experience, boosting business continuity to unprecedented levels. And this is very reason why our parent company puts so much focus on this kind of services.
In the Disposable Hygiene industry, a digital portfolio of services is paramount to excel at customer service. That's why today we will discover, together with GDM's Head of Customer Service Augusto Cappiello, what the future holds for Customer Service at GDM.
As of today, what's your main focus when it comes to customer service?
Today, people want to be protagonists, not just clients. Customer service is key in this regard. According to a recent survey by Gartner[1], about three quarters of people think that improving content and knowledge delivery is crucial. That's why our main focus has been to shift from a reactive to a proactive service, strengthening our customer experience strategy with robust analytics. Enabling a seamless customer journey across all channels is instrumental to achieve GDM's vision of Business Made Easy. 
The pandemic has caused a global supply chain disruption and made remote work the standard:  we have been able to quickly adapt thanks to our extensive network of suppliers and industrial know-how. Indeed, this historical conjuncture has given us the opportunity to sharpen our technology and enhance our portfolio of digital products and services, allowing us to actually increase customer proximity. Thanks to this, we are now able to create the highest value ever for the client, regardless of the distance.
A long road has been traveled, but an even longer one lies ahead. What is the main challenge you face?
The biggest challenge we face is being clear and relevant when sharing our digital offer with our customers, making it easy for them to understand what we offer so that they can truly take advantage of our solutions. We all have heard the words 'digitalization' or 'Industry 4.0' multiple times but they remain just buzzwords to many. We are working hard to explain and humanize our digital offer because in the end it always boils down to people. And our digital future has never been so human: people need to embrace the digital tools and take performance to the next level. A machine or a software will never do it for us.
Another challenge is the transformation from technology supplier to process partner. In the last few years, GDM has morphed from a hardware manufacturer of goods to a service provider and 360-degree consulting partner. Today, we do not sell just machines - we offer complete solutions that make doing business as easy as it gets.
How is GDM coping with these challenges, and what's new about GDM's digital portfolio in this context?
GDM is not reacting to this trend: we are proactively operating with an enhanced digital portfolio of services that help our customers – our partners - no matter the problem at hand. A portfolio that keeps evolving. 
Indeed, the company now offers a wide range of cutting-edge solutions, encompassing the most novel technologies, from AI and IoT up to AR. For instance: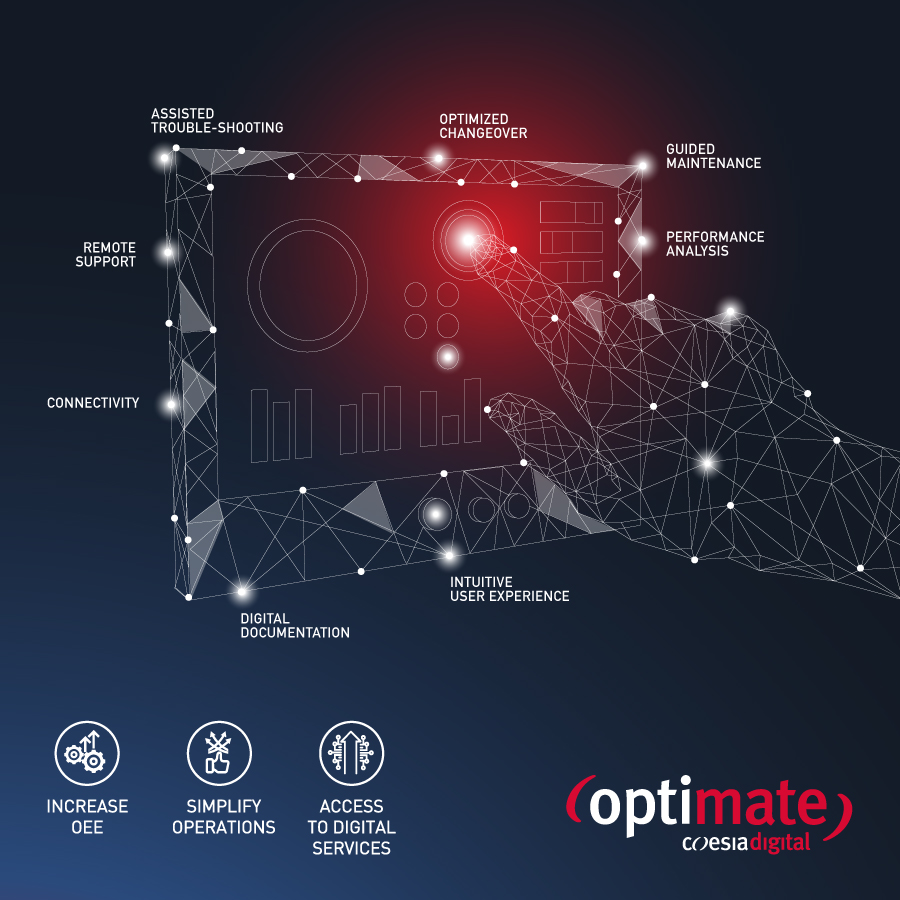 OptiMate: One solution for the management of ONE MACHINE
OptiMate, Coesia and GDM's human machine interface with connectivity and smart functions, is no longer an option, but a standard for all company's lines. 
Designed to optimize the customer's equipment's quality and performance, OptiMate allows easy access to innovative digital services and remote support while increasing OEE and simplifying operations.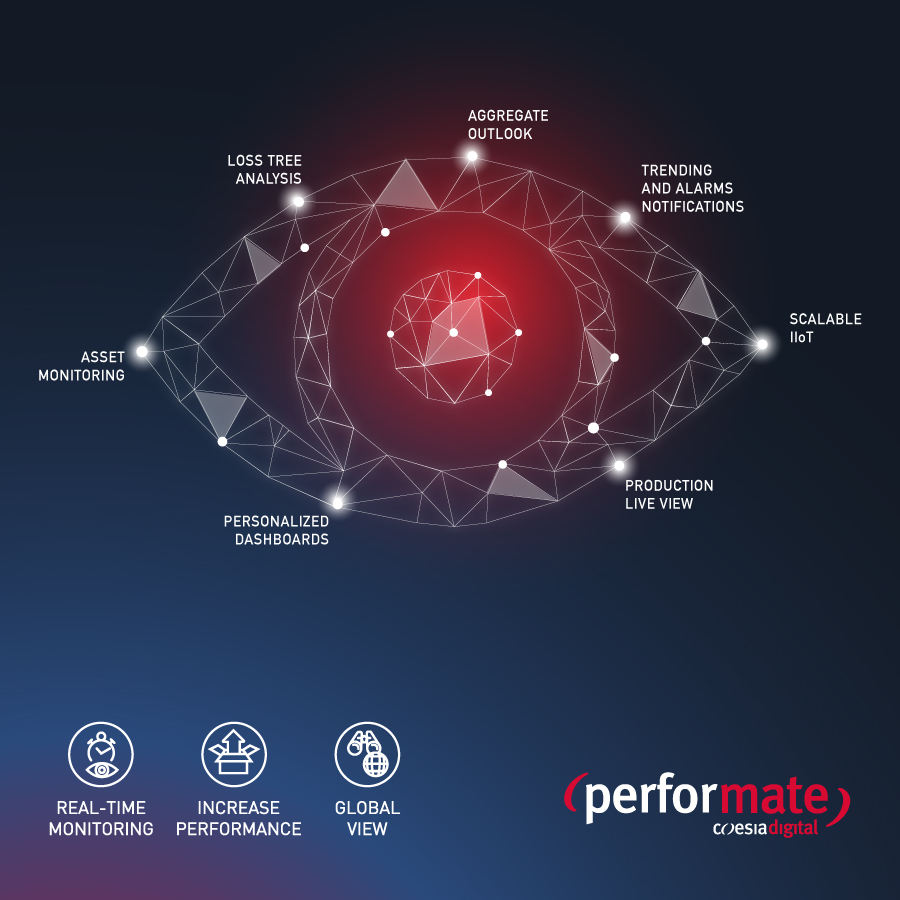 PerforMate: One solution for the management of MORE THAN ONE MACHINE
PerforMate, on the other hand, is our integrated IIot platform cloud-based for full-scale, real-time machine monitoring. 
PerforMate employs machine learning algorithms to provide a bird's-eye view of the production line – or the complete fleet of your lines - with asset monitoring, loss tree analysis, trending and alarm notifications, aggregated outlook and, last but not least, a user-friendly, personalized dashboard. In short, PerforMate puts the customer in the driver's seat, providing active supervision of the manufacturing state.But there's more in our digital portfolio: enter Remote Assistance, GDM's ace in the hole to maximize equipment uptime through faster, leaner and better troubleshooting. It is the combination of three key elements: knowledge (AI-driven diagnostics, real-time support, technical documentation), IT platform (mobile, web, AR etc.) and hardware (smart glasses, etc.).
Thanks to this unique integration, not only we are faster at finding the root problem, we are also better at solving it, with the result of a significant reduction in operational costs and a material boost in performance. Cherry on top, Remote Assistance is no longer a bulky electrical cabinet, but integrated components that make up the RA system running on the converting/packaging line - a software that can be seamlessly implemented in all Coesia machines and retrofittable for equipments up to 15-years-old. 
Our goal is to shape and re-shape the future of Disposable Hygiene together with our partners. We believe such this innovation revolves around three pillars:
Looking ahead, our vision is a SMART PLANT where a one end-to-end solution, highly integrated and connected, consolidates the manufacturing operation management of the 
WHOLE PLANT and improves the management of product quality, planning and advanced timing, facilitating flexibility and speeding up time-to-market.
The smart plant is already here, let us prove it to you: contact us.