Grow your future: B6-W Red Virtual Days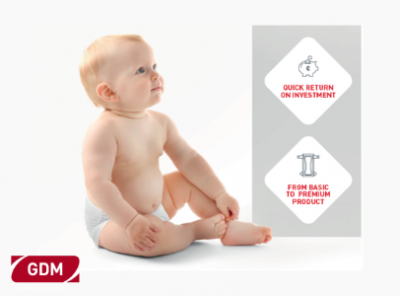 Following the huge success of the 2020 editions, here we are in 2021 with our distinctive Virtual Days, this time dedicated to the Baby Open line running at 600 ppm – the B6-W Red – and addressed to manufacturers in the Disposable Hygiene market.
Our event will be held between March 1st - 5th, making it possible for you to experience a 360-degree unique vision of the full machine: thanks to the process solutions proven on our best-selling lines, B6-W Red delivers baby diapers with cutting edge core technology and the option for permanent channels.
Moreover, it enables an optimal mix and distribution of fluff and SAP while minimizing raw material costs thanks to Zero Waste design on both front & rear wings and the capability to run low gsm textures.
B6-W Red is designed to last, ensuring high reliability with stable performances and no stops. It is the answer to your needs of maximized production at an optimized cost, supporting you and your growth ambitions in the Baby Diaper market.
Not enough? During the Virtual event we will discover together how to take advantage of all the benefits of a single source supplier from converting to primary packaging, combining the B6-W Red with our SB50 Red or Go stacker & bagger machines.