Extending your machine availability with GDM Audit Service
As described by Forbes[1], the value of a genuine business partner in times of crisis is sky-high. In 2020, with a global crisis taking a toll on small and big companies alike, this is especially important. But, words to the wise[2], 'successful partnerships don't just happen. Strong partners set a clear foundation for business relationships and nurture them.' 
At GDM, we believe this clear foundation lies in sharing a common purpose: to make business simple and efficient. Indeed, our establishing principle is to make life easier for our customers and always to be at their side. To bring value to the table not simply as a service provider, but as a partner. This is what we call Business Made Easy.
In line with this tenet we have launched the GDM Audit Service - our dedicated machine inspection service to support our customers along all the machine lifetime. A machine audit is a systematic examination, in terms of recurrence and methodology, of the machine. In the manufacturing business, machine audits are key to stay ahead of the competition. In the age of data analytics, this means taking advantage of data-enabled insights coupled with automatic identification of critical items, enabling the customer to prioritize top-value areas.
As a matter of fact, an audit does not simply generate a picture of the overall condition of the machinery, but also inspects all adjustable and wear components in order to fine-tune the process and fix any malfunction. All in all, the role of a technical audit is to unlock opportunities for improvement through adjustment, repairs, training, and even upgrades.
Through the GDM Audit Service we can integrate the customer's regular machine maintenance procedure with an in-depth analysis of production, machine status and maintenance data. This way, we can develop an action plan tailored to the customer's needs, optimizing productivity. 
GDM Audit Service is supportive of the machine Overall Equipment Effectiveness, contributing to its boost up to +20% starting from the real conditions of your equipment
Why and when an audit is just what you need 
Most times, a technical audit is requested earlier than after a malfunction is discovered. Prevention is better than cure. In order to make products of the highest quality it is in fact crucial to keep machines constantly audited, so as to prevent their throughput from decreasing. As a general principle, the older a machine, the more important it is to keep it in optimal condition. An audit is invaluable in this regard, as it literally extends the machine lifetime, making investment in equipment even more sound.
Regardless of the machine age, a machine audit is instrumental to avoid unexpected downtime. Word to the wise, uncertainty is the enemy of business. For this reason most  manufacturers integrate technical audits within their preventive maintenance, so as to avoid any unscheduled work in the future. Going through a complete inspection of the machinery at least once a year can do a great deal in terms of preventing occasional malfunctions. This practice not only preserves the machinery at its peak performance, but also optimizes the total cost of maintenance, improving spare parts replacement scheduling and stock management. 
How the GDM Audit Service works
GDM Audit Service is structured in three steps: Preparation, Execution, and Action Plan.
Preparation
During this step, a team of GDM certified technicians starts to work on the machine documentation and production data. In parallel, a checklist is compiled including all the critical and wearable parts to be inspected. This list is then uploaded into the Machine Execution Tool (MET), a tool developed by GDM specifically for the GDM Audit Service.
Execution
This step consists in the actual audit of the machinery. It includes both a Running and a Static Audit. To avoid any interruption in the customer's workflow, we take care of fitting the inspection into the customer's scheduled production and maintenance plan, with a minimal impact on daily activities.
Action Plan
The last step consists of an extensive analysis of all data acquired during the audit. After the examination, we provide the customer with a Technical Report, which presents a thorough evaluation of the machine condition as well as opportunities for improvement. It is worth mentioning that we are talking about a "suggested" action plan, as the decision regarding the timing and entity of the implementation is up to the customer.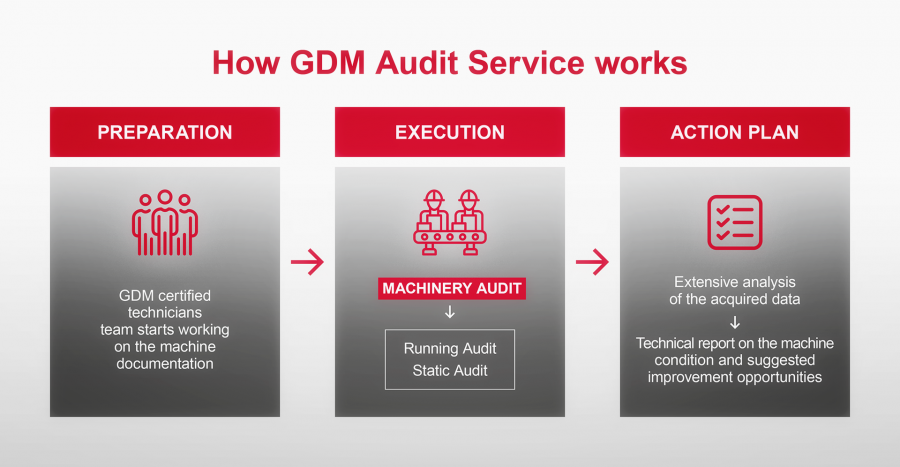 GDM Audit Service: a success case
As evidence of the value provided by GDM Audit Service, we are now going to investigate a case study involving one of the top players in the Disposable Hygiene business. 
As the Customer noticed a performance decrease in its 8-years-old GDM machine for Adult briefs, an all-round analysis became necessary. Indeed, the production requirements volume-wise for the disposable hygiene market were in jeopardy. In addition, the Customer needed supplementary support to the periodic scheduled maintenance procedure, to reduce any unplanned intervention.
After considering the Customer's needs, we proposed an analysis of the machine from the ground up. Our intent was to evaluate the overall condition and thereby generate a root cause analysis of the issue.
GDM Team carried out a full-blown inspection and formulated an action plan which was put in place two weeks after the actual inspection by the GDM certified technicians. 
Our Audit Service made it easier to implement scheduled maintenance interventions extending the machine availability while enhancing its performances:
•    production speed +22%
•    machine uptime +8%
•    product waste reduction up to 22%
•    deriving OEE increase +20%
In a matter of six months the machine performance was once again stable and back at its peak, meeting the requirements of our Customer's target market.
In conclusion, GDM Audit Service is a pivotal component of any maintenance plan. Not only does it preserve the equipment at maximum performance but extends its availability and lifetime while improving productivity and throughput. 
Thanks to GDM Audit Service, that can easily be booked through the Coesia Portal, we can support our customers along with all their machines' activity, making their business more productive. 
That is what we mean with Business Made Easy.
Get the best out of our Audit Service, get in touch with us to know more now!