Business Made Easy through turnkey solutions – watch them in action!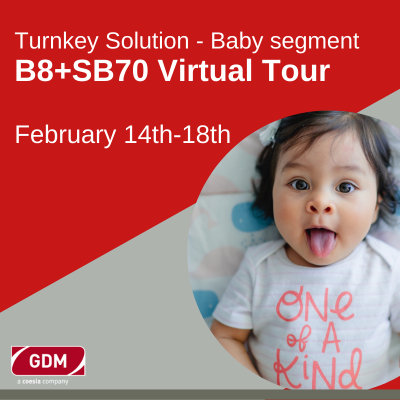 GDM is pleased to invite you to join us at the first 2022 Virtual Tour, dedicated to our integrated turnkey solution for the Baby Open segment B8 – converting machine speed 800 ppm - and SB70 – stacker & bagger 70 bags/min.
Our event will be held online between February 14th to February 18th, making it possible for you to experience a 360-degree unique vision of the full machine: through the extensive use of E-cam technologies, B8 has been designed to deliver high product quality, while ensuring process control and the lowest TCO, according to your needs.
Moreover, it is equipped with a superior core formation system – the Extra Thin Core process - and includes the latest product features, such as core channels, 3D topsheet and Inline laminated waistband.
During the online event we will discover together how to take advantage of all the benefits of a single source supplier from converting to primary packaging, combining the B8 with our SB70 stacker & bagger: an all-in-one solution for Making your Business Easy!