360-degree support with GDM: that's Business Made Easy
According to the World Economic Forum, partnership is the business trend to watch[1]. The reasons are many. 
For one, the pace and scope of technological disruption keeps increasing. If we look back these 20 years, no vertical has been left unscathed by the internet. Once just a nerd playground, it is now the dominant force of our economy, so much so that those players who have failed to adapt are now history. 
This simple fact, combined with the market getting more competitive by the day, makes partnerships attractive. After all, it's the survival of the fittest: two heads are better than one and no one wants to be the Dinosaurs. If you are a company then, you're well aware that, now more than ever, it's time to join forces with a partner that is ready to walk the extra mile to keep you out of trouble.
Which is exactly our inspiring principle: to make things easier for you and have your back. This is what we call Business Made Easy. We do not simply aim to be a global player in the Disposable Hygiene market, but also a unique technological and consulting partner that can help small, medium, and larger enterprises like yours to optimize the Value Chain. 
Thanks to our decades-long experience in the industry, we are fully capable of satisfying the widest variety of application requirements, from pre-sales and production to long-term support and customer care. Our goal is to team up with you, simplify your business and, ultimately, unlock your full potential.
We're not just talking about technology. A true partner is ready to help whatever your problem might be. That is also our vision: to provide a 360-degree support, whether your issue is technological or financial in nature.
Because of how financial markets value risk, a company based in a developing country, interested in converting or packaging technologies alike, often has it harder than a same-size competitor based in Europe. In this context, a mere technological partner doesn't cut it. What the company really needs is an all-round partner - someone that is ready to help them when no one else can. 
Partnership Made Easy: a case study 
That was the case with a West Africa-based company in the Disposable Hygiene industry. The company planned to implement a mid-speed packaging line and needed to finance 85% of the total investment. It was looking for a financing solution with a 5-year term. Because of the long duration of the financing and the customer being based in a developing country, the credit risk was considered high. But we did not throw the towel. 
On the contrary, we worked shoulder to shoulder with the Coesia Group, taking charge of the operation and putting into play our Treasury, Sales, Finance and Sales Operations Departments, plus all our network. We leveraged our strong internal know-how and also involved an Italian export credit agency in the process as well as external lawyers operating both in the country of the customer than in Italy. 
Ultimately, we obtained credit insurance from the agency, which insured the credit risk at mid-long term. But above all, this process enabled us to create a direct channel with the customer to facilitate their investment, proving to be a one-stop partner through and through.
As shown by this case study, we are ready to walk the extra mile for our customers. Thanks to our extensive expertise in the industry and our network, we have your back not just in technology, but also in business matters. That's the spirit of Business Made Easy: simplifying your business on all fronts, helping you when no one else can.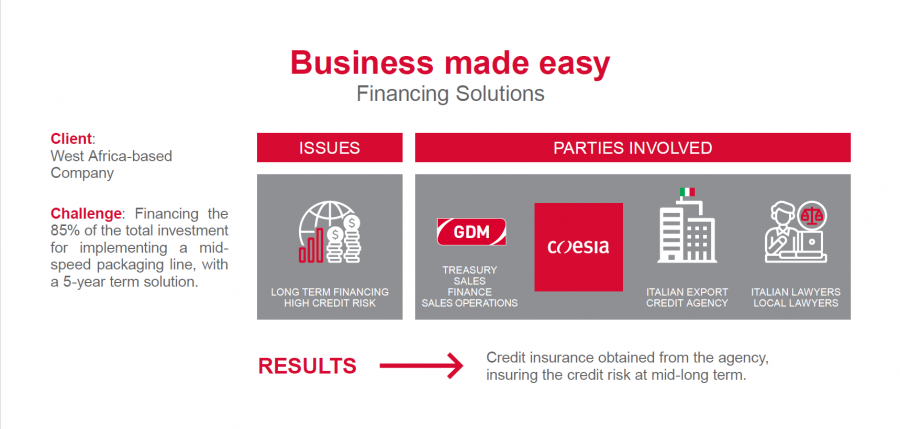 Looking for an all-round partner you can truly rely on? Discover how we can help you unlock your full potential. Get in touch with us!