Baby Boomers opening new opportunities for the U.S. Adult Incontinence market
The World Health Organization classifies Incontinence as a set of diseases affecting 8% of the global population, more than 400 million people Worldwide.
North America, Western Europe and Japan record the largest consumption shares in Adult Inco disposable products.
Focusing on the United States, ageing population is the key factor leading to 5% sales volume growth (CAGR 15-17), accelerating thanks to the Baby Boomer generation entering now their retirement years.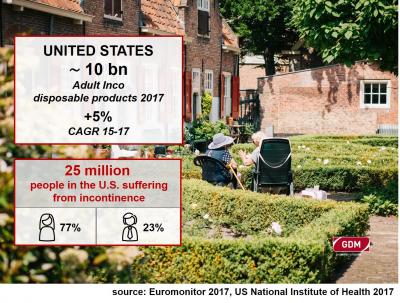 As the UN data confirm, the 65+ year old population in the U.S. will increase in the next decade (+47%): Retirement Communities residents are therefore forecasted to accelerate at +7% by 2035, as a consequence of the rise in housing prices since 2012 and of the economic facilitations introduced at a national level, by the 2010 healthcare reform.
Moreover, several federal governments, as California, Arizona and Massachussetts among all, have introduced adult diaper entitlements through Healthcare Institutions, providing a fixed amount of aid or a reimbursement per patient.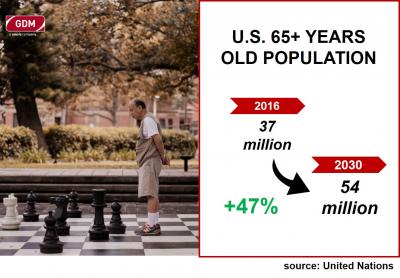 The set of these conditions opens the door to interesting investment opportunities in the Institutional Adult Incontinence market.
From a manufacturing perspective, which are the levers to bet on while dealing with this specific segment?
PRODUCT QUALITY AND FEATURES responding to the consumers' needs for softness, comfort and fit
PRODUCT COST CONTROL, to match with Institutional Healthcare's expenditure requirements
PRODUCTION INCREASE sustaining disposable products' demand growth in the mid-long term
GDM portfolio for the "Golden Age" consumers' satisfaction
Dealing with Incontinence, consumers look for the highest product performance without compromising on fit and comfort. Adult briefs featuring a straight chassis with Rectangular panels, maximize raw materials saving up to 30% while improving product quality and wearability.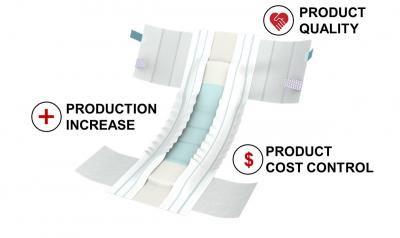 A5-MR Red, running at 500 ppm, is the GDM answer to high performing Adult brief needs, minimizing material waste and unitary product cost thanks to the Zero Waste design and achieving the best Total Cost of Ownership results.
Prioritizing on Flexibility, GDM A5-MR Grey, has been designed according to your specific production and performance requirements: thanks to innovative process solutions based on E-cam technology and new tools minimizing the number of needed operators, you can cut the overall machine size changeover time up to -70%.
Combine it with our stacker and bagger SB60 to have all the benefits of a single source supplier from converting to primary packaging!