Africa: land of opportunities for the Baby Diapers market
In recent years, economic growth in Africa has been second only to Asia: as per 2017, the continent has marked an average annual GDP increase of 3,7%, thanks to improved political solidity and reforms unleashing the private Sector in many countries.
In this growing economic context, tradition keeps being a distinctive feature: in fact, in the Baby diapers market, cloth diapers penetration is still high, around 40%, and small local stores are the main distribution channel.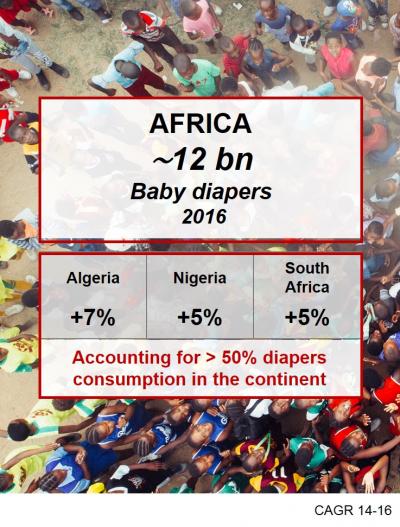 In Northern and Southern Africa, the market is more mature: South Africa has been the first to invest in machinery for Baby diapers production, followed by Algeria thanks to Middle East trends' influence and structural reforms, especially in infrastructure development.
Benefitting from a young consumers base and key global players' presence, Nigeria has afterwards become the Central African country with the highest level of Baby diapers penetration (19% in 2016).
What will the future bring? The main investment opportunities in the Baby diapers market are closely linked to the potential population growth: focusing on Central Africa, Senegal, Kenya and Ethiopia are the countries where 0-4 years old population is expected to increase the most, up to +25% by 2030.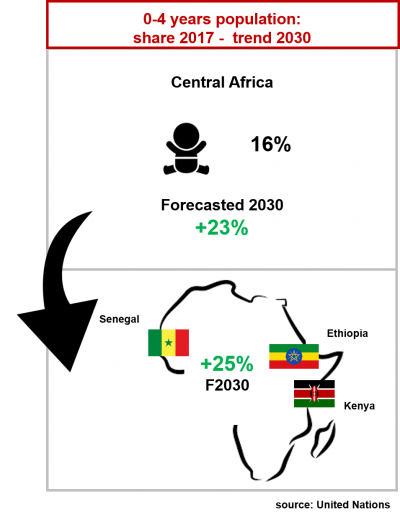 The focus is now on two pillars, allowing Baby diapers manufacturers to keep up with the specific regional market needs:
PRODUCT IMPROVEMENT to provide premium quality diapers, snuggly and super-absorbent
PRODUCTION OPERATIVE COSTS OPTIMIZATION, to face local currencies devaluation and to support growth ambitions
B6-W RED: YOUR REFERENCE PRODUCT AT THE LOWEST COST
B6-W Red, running at 600 ppm, is the GDM answer to high performing baby diapers needs, manufactured at the lowest Total Cost of Ownership of its category.
Thanks to the adoption of process solutions proven on our best-seller B8-W Red, our machine delivers performing baby diapers with evolved core featuring Permanent Channels.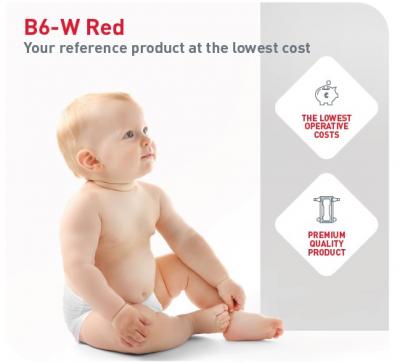 Combine it with our stacker and bagger SB50 to have all the benefits of a single source supplier from converting to primary packaging!